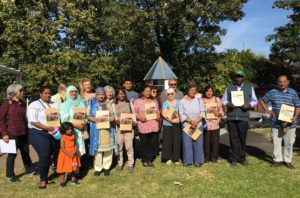 Dear All
On Saturday, we hosted Graveney & Figges Marsh in Bloom award ceremony at the community centre. Lots of Graveney gardeners attended the event – Graveney photos attached.
116 gardens were selected this year, 19 of which were exceptional.
£25 garden vouchers were awarded to the three winners.
Everyone whose garden was selected will receive a PRETTY FRONT GARDEN 2019 Certificate.
Thanks to all of you who make a real effort this year. It is always a joy to see pretty front gardens. We hope more people will discover their green fingers for next year's challenge.
Mitcham has its own Horticultural Society which meets monthly on the last Wednesday of each month ( except Dec. ) at Age UK. 277, London Road, Mitcham, CR4 3NT
Doors open at 7-15 meeting starts at 7-30 and closes at 9-30.
Shows held in St Marks Church Hall (next to the church ) St Marks Road, Mitcham, CR4 2LF If you want to see what is on show the next one is on the 5th Oct at 2pm. You are welcome to visit and see for yourself,.
Kind regards
Linda Kirby
On behalf of Graveney Ward Councillors
Cllr Linda Kirby  linda.kirby@merton.gov.uk;
Cllr Tobin Byers  tobin.byers@merton.gov.uk;
Cllr John Dehaney  john.dehaney@merton.gov.uk
Graveney Ward Councillors' Surgery 1st Saturday of the month 10-11am North East Mitcham Community Association, Edenvale Playspace, off Woodland Way, Mitcham CR4 2DZ
Weekday Office: Rosy/Helena 020 8545 3424