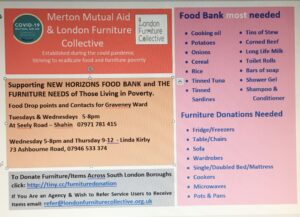 Thanks to everyone who generously donated last week.
If you are able to help, we would be very grateful.
On the leaflet below (and attached) is a list of the kind donations that are needed. The drop off points for these are also listed.
Drop-offs to 73 Ashbourne Rd (not Gorringe Park Ave)  and Seely  Rd this week.
Alternatively, you can make a financial donation to THE WIMBLEDON FOOD BANK
Which includes the Mitcham satellite at New Horizons Centre in Pollards Hill.
Please click on the link below if this is your preference.
https://wimbledon.foodbank.org.uk/give-help/donate-money/
The leaflet also gives information about Furniture collection, if you have any unwanted furniture that could assist families in need.