Jean Pullen celebrated the big day in front of family and friends at the Young at Heart club on Monday (November 12)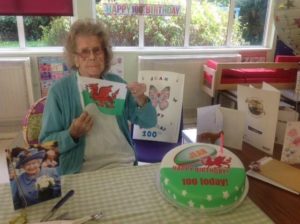 Angela Godfrey, who works at the club, said you couldn't wipe the smile off Jean's face.
"Jean's son Derek delivered the amazing cake in the morning which had her Welsh flag and a rugby ball as she is a big fan of the sport," Angela said.
"We had arranged for Dave to come along with his guitar so we had a brilliant afternoon of singing along to all the old songs with him.
"We often use Dave throughout the year, he really came up trumps on the day."
As well as singalongs, there was many a decoration to be seen with balloons and banners lining the club.
Of course there was also the card from the queen with a message inside for Jean, in Welsh as well.
"Jean loves her day at the Young at Heart club and couldn't stop smiling all day,"Angela continued.
"She really did enjoy her special day."