Merton Climate Action Group
@ClimateMerton
Merton Garden Streets
SEEKING VOLUNTEERS TO HELP RUN PROJECT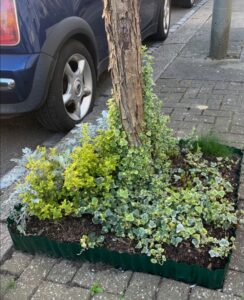 This is the first project of the new Merton Climate Action Group, the new community-Council collaboration to involve residents in community-led projects.
Merton Garden Streets aims to get local residents and businesses out turning their streets green by planting under street trees, in window-boxes and front gardens, even putting living roofs on bin/bike sheds. The scheme will equip residents with materials and knowledge so even new gardeners can take part. The benefits will be environmental (helping pollinators, etc) and social, helping residents learn new skills and meet new people while working to make their streets greener.
Volunteers needed to help behind the scenes – on comms, project management, volunteer coordination, liaising with sponsors and more.
Please contact:
Meeting Details:
Thursday, 8 April at 8pm – details below. Can you join?
Zoom Meeting
Meeting ID: 829 3850 3972
Passcode: 405213