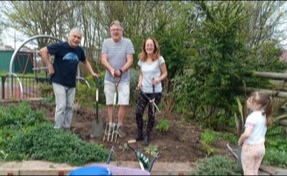 Thanks to our 10 volunteers who turned up at short notice today for a bit of community engagement.
7 panels & gate of the boundary now completed thanks to the two Lindas, Andrew & John. Several more to finish.
Raised flower beds planted up with a selection of plants kindly donated by Zul. Thanks to the gardeners – Lucy, Zul, Roger, Luca and junior gardeners – Alex and Sue.
Cakes and choccy biscuits – supplied by Roger and Linda W made the tea.
A lovely way to be out in the sunshine on a Saturday morning.
This coming Monday afternoon at 2pm Lucy and Roger will be working on the raised beds again. Please come along if you want to help out.
Linda Kirby